Jeff Bezos, the world's richest person and founder of Amazon, has recently become one of the most talked about topics in social media.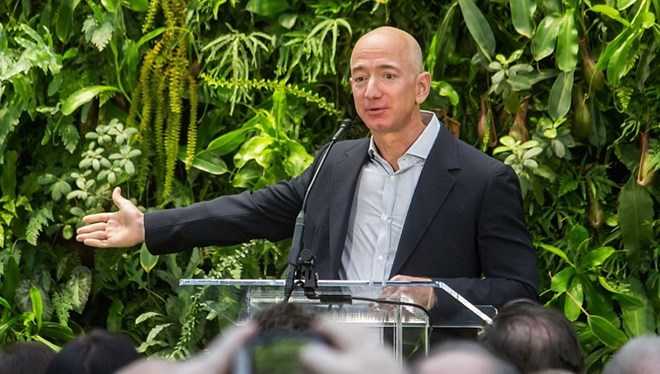 It was allegedly ironically dead by drowns in the Amazon river with the tag #RipJeffBezos.
Is Jeff Bezos dead? #RipJeffBezos trends over claims 'he drowned in Amazon river', Internet debunks viral hoax.
It seems a few bored internet users decided to trend #RIPJeffbezos, similar to the previous #rRIPEllen trend, which went viral but was eventually established as a hoax that spread like wildfire
Twitter users were swept by a shockwave as the social media platform started trending #ripjeffbezos on Tuesday, July 7, saying the CEO and president of the multinational technology company Amazon, Jeff Bezos, is dead. However, we are here to tell you that the latest Twitter trend is nothing but a hoax.
It is not surprising that even hearing it has sent people on a frenzy owing to Bezos's international reputation. Only on July 6, it was reported that Amazon's stock had hit a record high, while the global economy continued to be crippled by the novel coronavirus. He also made headlines in February for selling over $4 billion worth of Amazon shares since January 31, in a matter of a week. According to Forbes, he took home an estimated $3.1 billion.
So how did these rumors surrounding his death begin and why have users come to believe it? It seems like a few bored internet users decided to trend #RIPJeffbezos, similar to the previous #rRIPEllen trend, which soon went viral, but was eventually established to be a hoax that spread like wildfire. Many of them claimed on Twitter that he died from drowning in the Amazon river.
"I'm literally sobbing. first ellen now jeff. I can't believe he drowned in the amazon river. he didn't deserve this. ok maybe he did." read one tweet. While many users responded to the trend saying they just couldn't believe it, the rest used it as an opportunity to circulate memes and jokes about Amazon's future in Bezos' absence.
One user wrote, "#ripjeffbezos Jeff Bezos wrote everybody on earth's name in his will, we will all be getting $25.57". Another shared a picture of the American rapper Pitbull and wrote, "#ripjeffbezos we lost a legend you guys. an innovator. someone who invented a product so revolutionary, you could almost say it was…worldwide. We'll miss you Mr Bezos Dale!" referring to their resemblance.
However, some users didn't buy this news easily and instead criticized people who indulge in such baseless rumors. "How in the hell are all of these weird hashtags trending? I'm so tired of this propaganda platform. #ripjeffbezos," wrote one. These tweets, however, were soon found to be far from the truth. It was rather fascinating to see the amount of love Bezos received from people across the world, who seem highly disturbed by the fake news regarding his passing.
Well, it shouldn't come as a surprise taking into consideration his philanthropic work of years. He recently donated $100 million to food banks through Feeding America during the Covid-19 pandemic.
These tweets are far from being true. MEA WorldWide (MEAWW) does not support and cannot independently verify these claims being made on the Internet.