SOURCE: CNN BUSINESS
Apple reveals new iPads and Apple Watch
Apple One allows subscribers to pay a single monthly fee, starting at $14.95, for access to a collection of Apple's digital services, including Apple Music, Apple Arcade and Apple TV+.
Once again, Apple is using its dominant position and unfair practices to disadvantage competitors and deprive consumers by favoring its own services," a Spotify spokesperson said in a statement to CNN Business.
"We call on competition authorities to act urgently to restrict Apple's anti-competitive behavior, which if left unchecked, will cause irreparable harm to the developer community and threaten our collective freedoms to listen, learn, create, and connect."
Spotify competes with Apple Music. Last year it filed a complaint against Apple with European antitrust officials, accusing it of giving its own music service an unfair advantage over competitors. Apple is also facing antitrust scrutiny related to its app store policies after it was sued by the maker of video game Fortnite.
Apple did not immediately respond to a request for comment.
That was refreshingly quick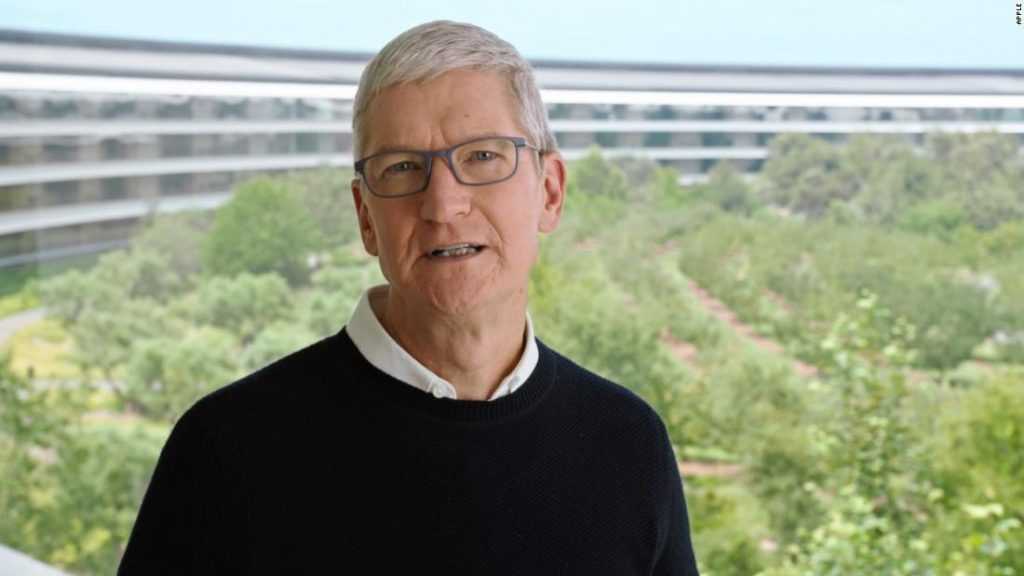 The invitation read "Time flies" and so did Apple's online-only product launch event.
Clocking in at an hour, give or take, Apple executives sped through the fine details of the latest Apple Watch, iPad, iPad Air and a host of new services.
Frankly, it was refreshing compared to the often-over-the-top in-person events Apple is famous for. Those have to slow down for people to exit and enter the stage, not to mention giving pause to make room for audience reactions.
Tuesday's virtual format was, of course, due to the ongoing pandemic, which has forced big tech events to be online only or outright canceled. We'll likely go back to the big shows after the coronavirus is contained, whenever that is. But hopefully this experience shows Apple, Samsung, Google and the like that you can produce a flashy, seamless event that delivers all the same details without needing the expense and time suck of a live event.
iOS 14 comes to your iPhone tomorrow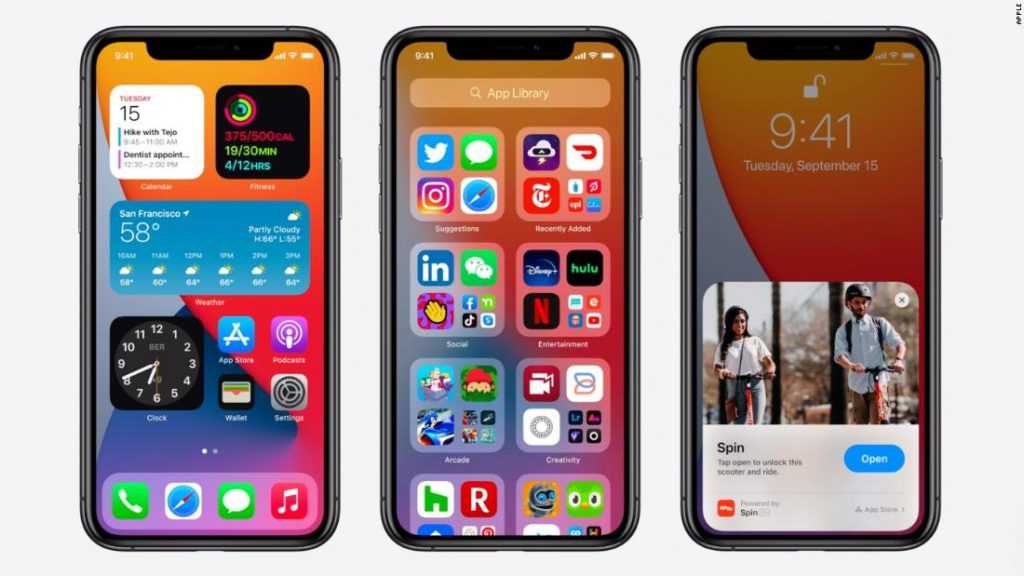 If you don't buy a new device, your existing Apple products will get a refresh if you update to new software tomorrow.
Apple previously announced new features coming to iOS 14, including ways to better discover and organize apps, upgrades to group chats and privacy changes.
Existing Apple Watches will also get an update. With Watch OS 7, users will get sleep tracking, automatic hand washing detection and additional fitness workouts.
Apple puts Peloton on notice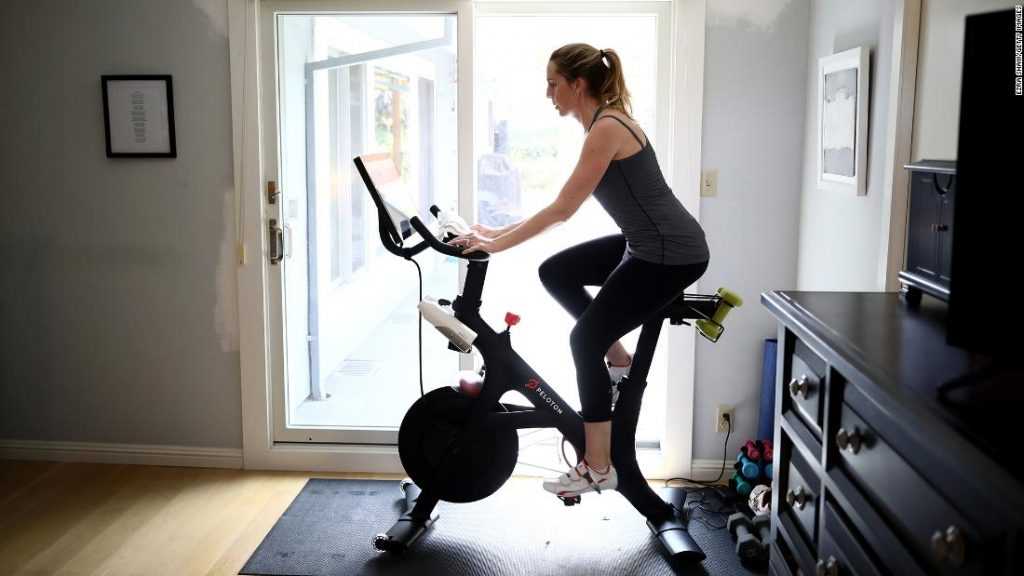 Apple is getting in on the online fitness craze and incumbents have taken notice.
Apple announced a Fitness+ subscription, built for the Apple Watch, that costs $9.99 a month and will include cycling and yoga exercises. It launches later this year.
Peloton CEO John Foley said during an investor and analyst meeting that he is "digesting" Apple's announcement.
Foley said that Apple launching Fitness+ is "quite a legitimization of fitness content, to the extent the biggest company in the world … is coming in and saying fitness content matters."
Still, the CEO said he thinks Peloton holds the upper-hand with its bikes and treadmills, noting that Apple is not launching a rival bike. "We think the special sauce, the magic, is our connected platforms and in order to work out at home you need a stationary bike if you're going to be biking."
At the time of writing, Peloton's stock was up over 5% on the day.
Apple unveils Apple One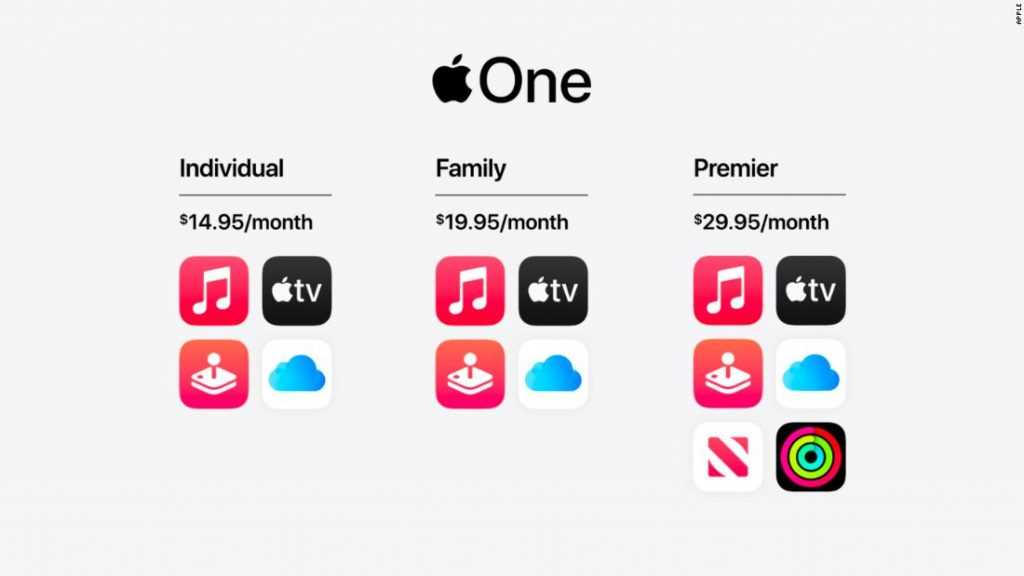 Apple sells a lot of services. Now it's giving customers a way to buy all of them in a bundle, which will be called Apple One.
The subscription service comes in three tiers. The cost for an individual is $14.95, which gets you Apple Music, Apple Arcade, Apple TV+ and iCloud. A family subscription goes for $19.95, which allows those services to be shared with up to six family members. Finally, a premier subscription for $29.95 a month includes all those services plus News and Fitness subscriptions. It also bumps up the storage to 2TB.
Apple is offering the new service on a 30-day free trial.
The company is offering another new subscription service, called Fitness+, which provides members with exercises like yoga and cycling. It costs $9.99 per month.
The new iPad Air supports USB-C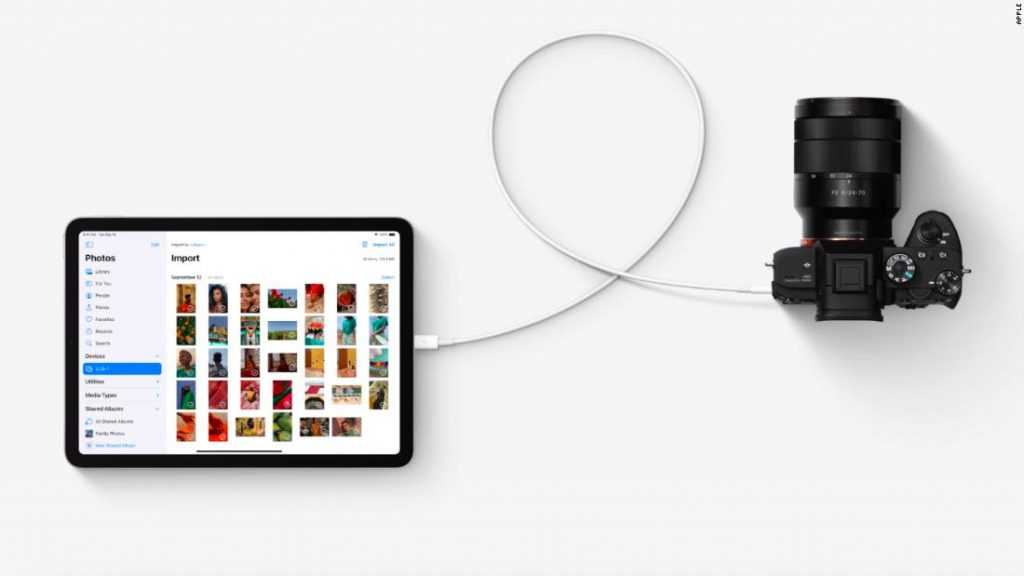 Following in the footsteps of iPad Pro, iPad Air now uses USB-C instead of Apple's proprietary Lightning connector, meaning you'll be able to charge it with the same cable that charges a new MacBook Air or a Google Pixel. It's a major convenience upgrade to a universal technology.
Does this mean we might see a USB-C iPhone some time soon? A geek can dream.
A new redesigned iPad Air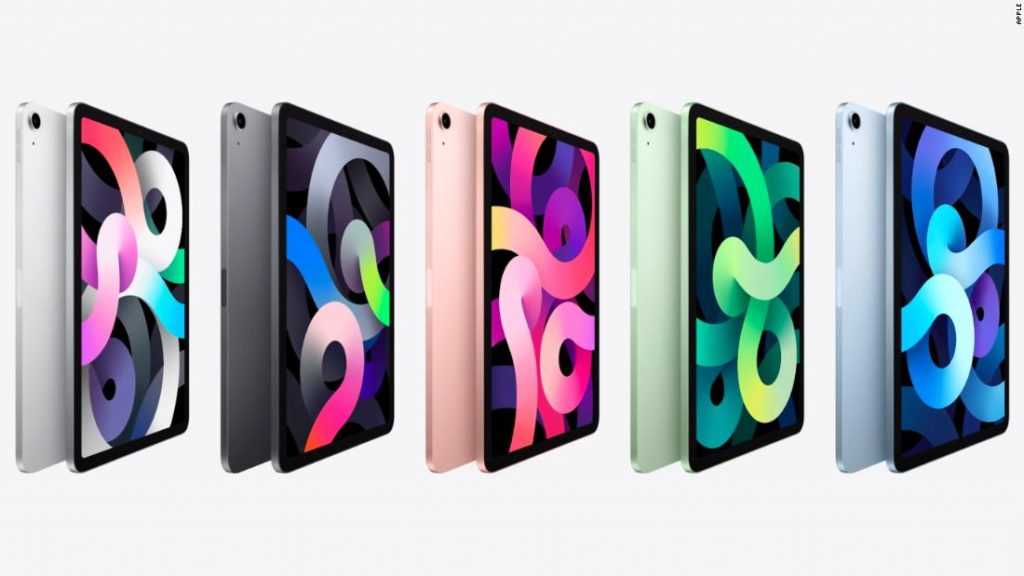 Tim Cook just returned to the live stream to introduce the "all new, completely redesigned iPad Air."
The new iPad features a larger 10.9-inch screen, a smaller Touch ID sensor for fingerprint unlock, and a new A14 silicon chip that Apple says is its most powerful yet and will significantly improve the iPad's performance.
Apple is also giving the iPad Air USB-C compatibility, which will allow it to connect to a wider variety of non-Apple devices.
It comes in five different colors, including rose gold, green and blue.
The iPad Air will start at $599 and be available from next month.
The 8th generation iPad costs $329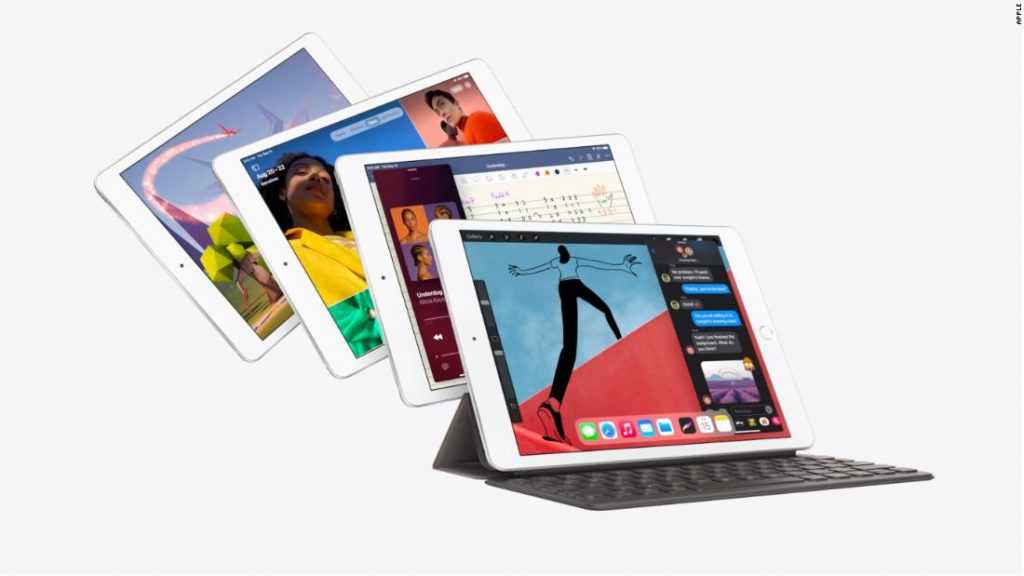 The new 8th generation iPad features what Apple says is an all-day battery, faster graphics and processing, a better camera and the A12 bionic chip, which Apple says is "more powerful than ever."
Apple threw some shade at Google, saying its new iPad is six times faster than the top selling Chromebook.
It's available starting Friday for $329.
Here comes the iPad news
Apple is refreshing its iPad. We're diving into the iPad 8th generation updates now.
Meet Fitness+ with the Apple Watch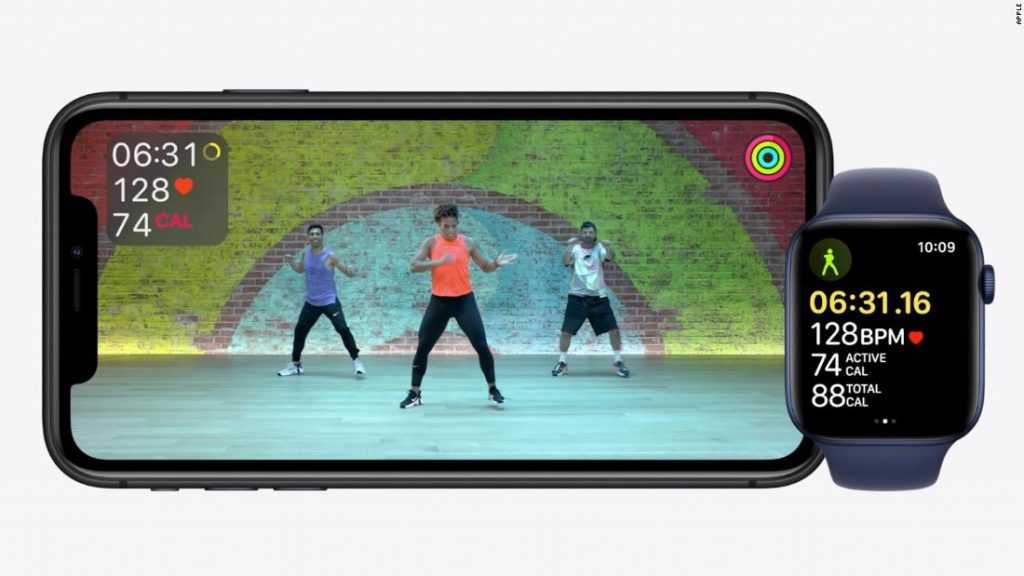 Apple is launching a digital fitness service called Fitness+ to use with Apple Watch.
Fitness+ will feature a catalog of workout videos that can be accessed from any screen — iPad, iPhone, Apple TV and so on. The workouts will range from yoga and dance to strength and high intensity interval training, and many won't require equipment. New videos will be added each week, and will sync with Apple Music.
The service will work with users' Apple Watches, which will help track metrics such as heart rate, calories burned, pace and distance throughout the workouts. When trainers prompt users to check their metrics during the workout, the numbers will automatically get bigger on their watch face.
Fitness+ will be available before the end of the year, for $9.99 per month or $79.99 for a full year. One subscription can be shared within a family. Apple is offering three months of the service free with a new Apple Watch purchase.
The fitness subscription adds a new offering to Apple's growing services business. It also comes as consumers increasingly rely on digital fitness services because of the coronavirus pandemic.
The Apple Watch won't come with a USB power adapter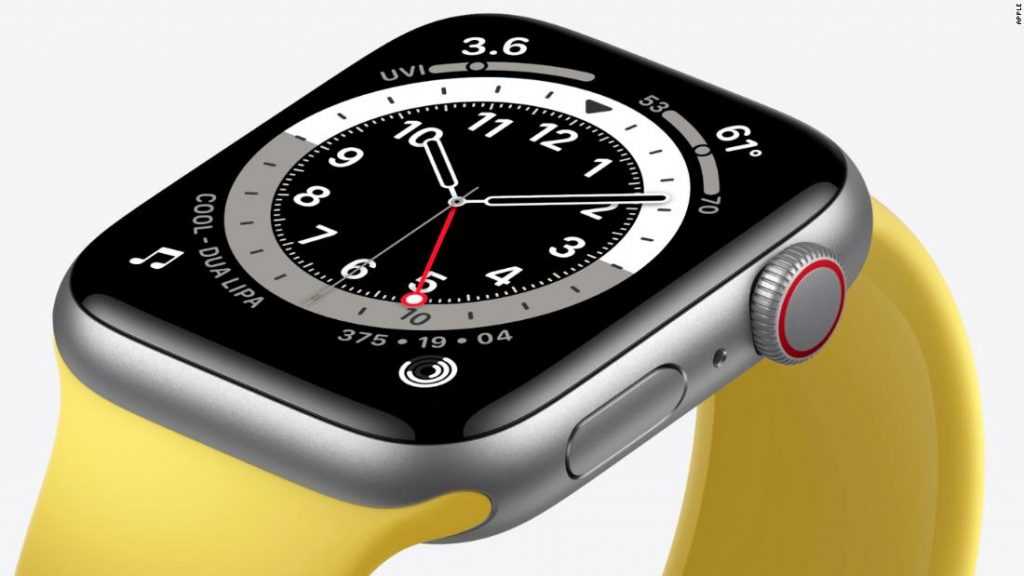 The Apple Watch won't come with a USB power adapter anymore, says Lisa Jackson, Apple VP of environment, policy and social initiatives, framing it as a way the company is continuing to go green.
That means if you don't have one laying around at home to charge your watch, you'll need to purchase one separately. The move could hint at Apple's future strategy. The tech giant could include fewer and fewer adapters with its new products, counting on consumers to already have them at home, and citing environmental concerns as a reason for cutting back. Of course the move could have the added benefit of reducing Apple's costs while also picking up additional revenue from those who don't have the needed adapter.
Here's how much the Apple Watch Series 6 will cost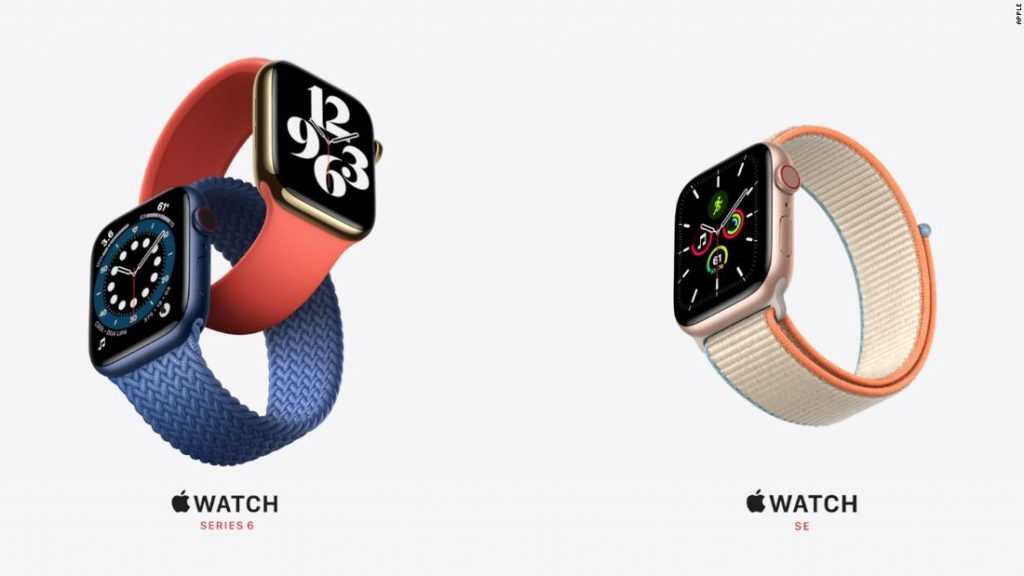 And now the price reveal…
The new Apple Watch Series 6 will start at $399.
That's the same price its predecessor, the Series 5, launched with last year.
The new Apple Watch SE starts at $279.
For those that want to get their hands on one (or get one on their hands) for even less, the Apple Watch Series 3 is still available for $199.
A budget Apple Watch that's not that cheap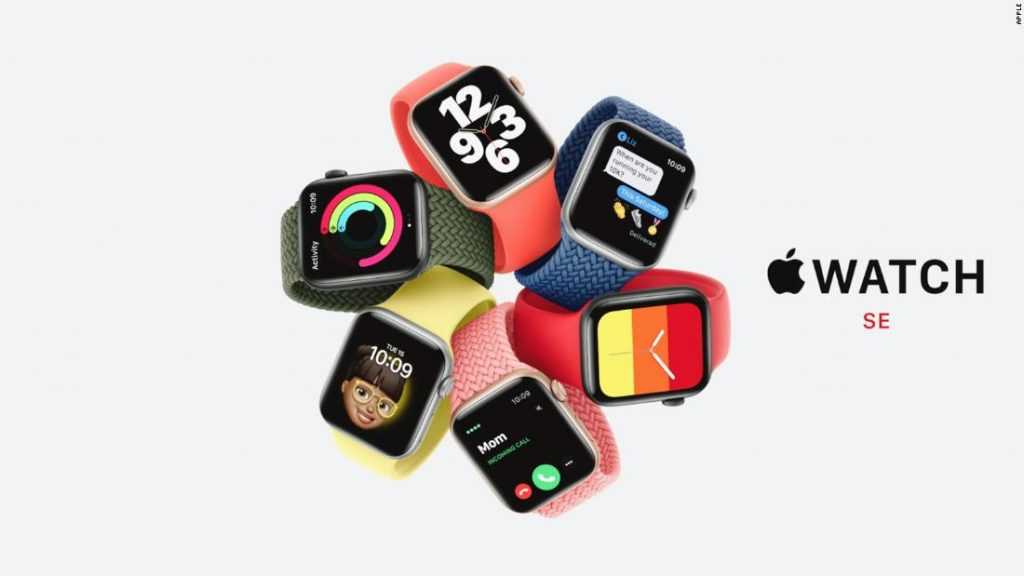 Meet the Apple Watch SE, which costs $279 and is available starting Friday.
While it uses a slower chip that the Apple Watch Series 6, it's still twice as fast as the Series 3 model.
It will run the latest version of Watch OS. The cellular model allows for phone calls, messages and more. Like other models, it has fall detection, the latest motion sensors and it's swimproof.
The Apple Watch SE starts at $279.
The Apple Watch Series 6 gets colorful
The Apple Watch Series 6 is "our most colorful lineup ever," said Apple's chief operating officer, Jeff Williams, during Apple's Tuesday event.
There are new colors: blue aluminum, gold, graphite and a new (Product) Red. (Product) Red is Apple's lineup where proceeds go to fund HIV/AIDS programs in sub-Saharan Africa. It already features several iPhone models and phone accessories, but hasn't had an Apple Watch in the mix until now.
Meet the Apple Watch Series 6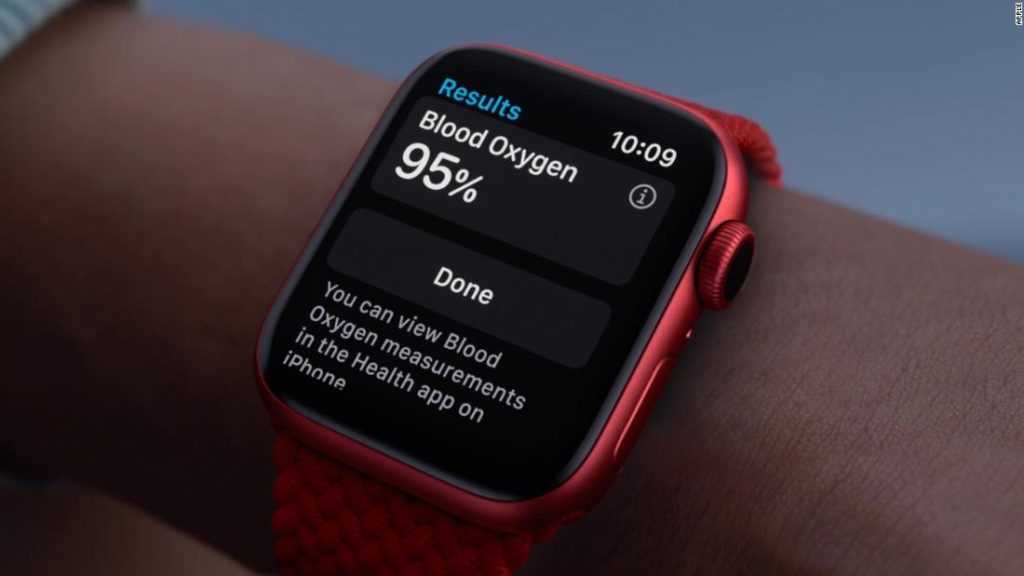 The new Apple Watch Series 6 will feature an app that lets you monitor your blood oxygen level right from your wrist. The watch has infrared sensors on the bottom that scan the color of your blood to determine how much oxygen is flowing through it. The device can also notify users if they are at a higher altitude, to remind them that their blood oxygen levels may be different than normal.
It also has new Watch faces, including one that shows multiple time zones at once, the ability to track your laps and one that features your animated Memoji.
There's a new band style, too called the solo loop, which doesn't have a clasp or buckle. It comes in leather or a woven design as well.
Tim Cook kicks off event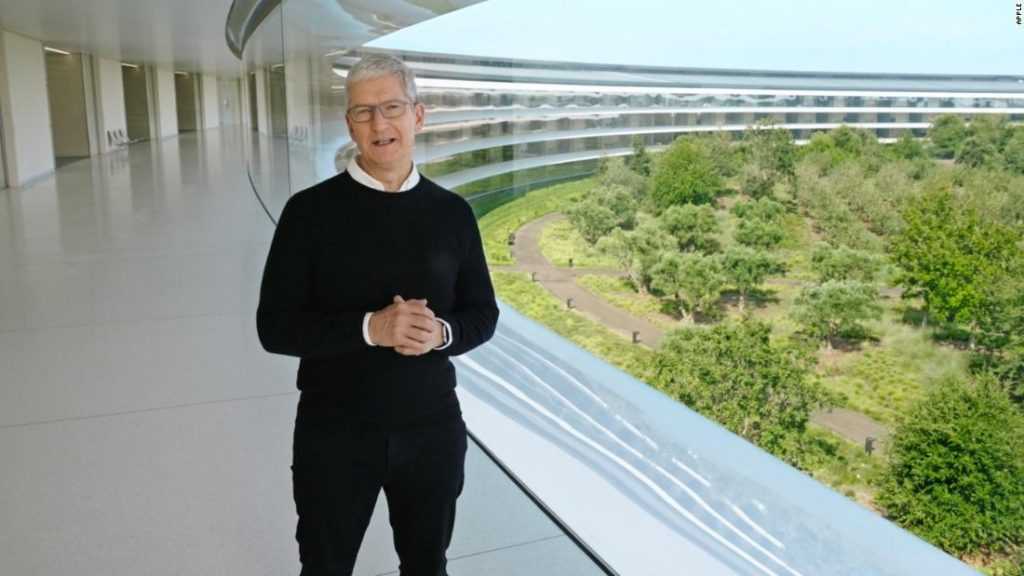 Apple CEO Tim Cook kicked off the event from Apple's spaceship-looking headquarters in Cupertino, California. He nodded to the pandemic in his opening remarks saying "we know life won't always be like this" and said "we look forward to better days."
He confirmed today's event will focus on two products: the Apple Watch and iPad.
How to watch Apple's virtual product launch
Apple usually launches new devices in front of a packed auditorium at its headquarters in Cupertino, California.
Not this year.
The coronavirus pandemic has forced big tech companies — including Apple rivals such as Samsung and Microsoft — to abandon splashy in-person events and unveilings they love so much. And it's still not clear when those will be back.
That hasn't stopped Apple from rolling out a bunch of new products and services virtually already, including a new lineup of MacBooks and iPads in March, a new low-cost iPhone SE in April, and a host of software updates at its (first-ever online) Worldwide Developer Conference in June.
Today's event, yet again, will be streamed live on Apple's website and YouTube starting at 10 am PT/1 pm ET.
Apple TV+ and gaming made a splash last year. Where are they now?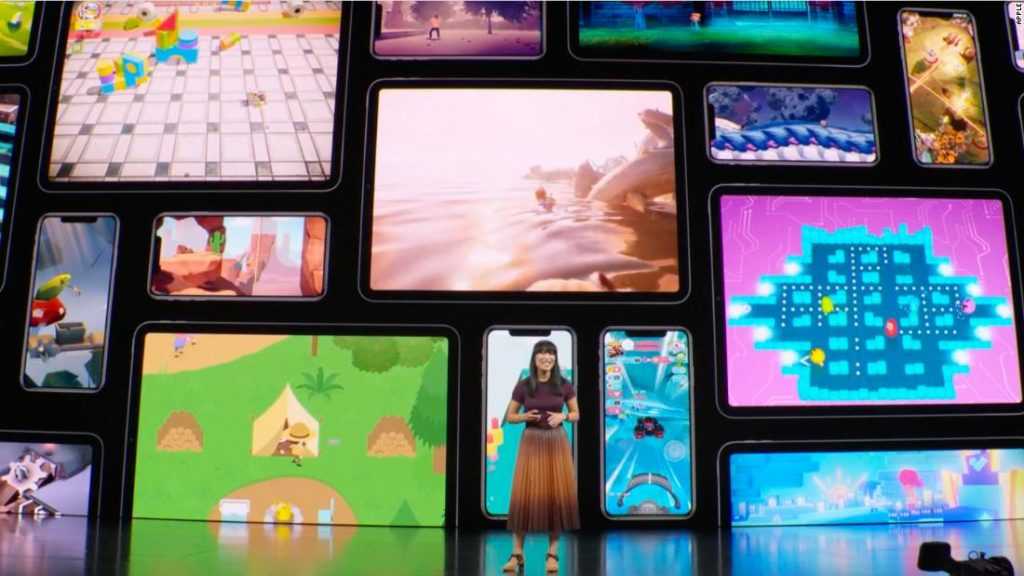 Announcements about Apple TV+ and Apple Arcade made a splash at last year's September event. But the hype around them has seemingly waned since then.
Some analysts expect services will come up again at Apple's Tuesday event — the announcements could include Apple TV+ bundles with other content offerings — which could reignite excitement around Apple's services business.
While Apple is still predominantly a hardware company, services represent a huge growth opportunity and 20% of the company's overall sales. They're a way for Apple to earn some extra billions from its customers in between device upgrades.
If Apple wants to maximize the potential of its digital subscriptions, experts say it will have to make them more appealing to the hundreds of millions of people who buy its gadgets.
Apple TV+, for example, needs a deeper well of content if it wants to compete with the likes of Netflix and Hulu.
They've got to build greater volume," said Zak Shaikh, vice president of consulting for global media and entertainment with Magid. "'The Morning Show' garnered a lot of critical acclaim. But it's not just about having that one, big splashy show that gets nominated, it's about the volume."
A new Apple Watch could make a pitch for the Covid era
The Apple Watch outsold the entire Swiss watch industry last year, and many analysts say the device's health and fitness features have a lot to do with its popularity.
Connected health has become even more important in 2020 as we deal with a global pandemic, and, according to rumors, Apple could pack its latest watch with features such as blood oxygen monitoring.
Don't be surprised to hear Apple double down on what its technology is doing to help in the current crisis — and how its can help you live a healthier safer life in the future.
The company announced earlier this year that a long-awaited sleep-tracking feature will be added to the watch in its latest software update.
Apple has been gunning for a foothold in the trillion dollar healthcare industry, with CEO Tim Cook saying he wants health tech to be seen as the company's "greatest contribution" to humanity. Apple earlier this year teamed up with rival Google to develop a coronavirus contact tracing system that uses Bluetooth technology to notify users if they have been exposed to someone with the virus.
Expect to hear the word 'privacy' a lot
Apple has made privacy a key selling point in recent years, and it could well use Tuesday's event to further drive home its commitment to protecting its users' data.
Earlier this month, the company released a satirical privacy-focused ad titled "Over Sharing" that shows people yelling out confidential information in public. The ad ends with text that says "Some things shouldn't be shared. iPhone helps keep it that way."
But Apple has had privacy issues of its own in the past, including as recently as last year.
Here's what Apple's first 'iPad' looked like in 1992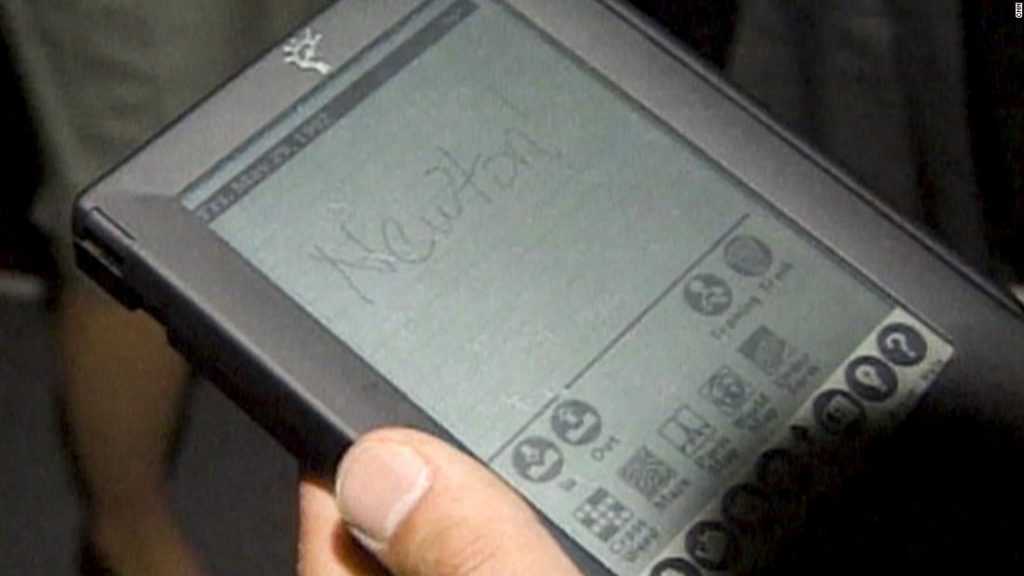 With a new iPad reportedly on the cards at today's event, here's a throwback to Apple's first iteration of a handheld tablet — one that was largely considered a failure.
Apple's Newton tablet was first unveiled in 1992 at CES, the electronics tradeshow.
Billed as a technology that would revolutionize people's lives, the Newton struggled for several years before Apple finally killed it off in 1998.
In its coverage of the device in 1992, CNN described it as a computer that "fits in the palm of your hand" that you can write on "like a notepad" that turns your scribbles into text on the screen.
Sound familiar?
Why we're not likely to see a new iPhone just yet
By this time last year, Apple had already unveiled the iPhone 11. The year before, it launched the iPhone XS, XR and XS Max on Sept. 13. The year before that, on Sept. 12, the iPhone X … you get the picture.
Today, though, we're unlikely to see the next version of Apple's flagship device.
The company warned during its last earnings call that disruptions to its supply chain from the coronavirus pandemic will delay the latest iPhone.
"Last year, we started selling iPhones in late September," the company's chief financial officer, Luca Maestri, said on the call in late July. "This year, we project supply to be available a few weeks later."
The iPhone 12 — Apple's first 5G smartphone — is now expected to launch in October.
A new Apple Watch?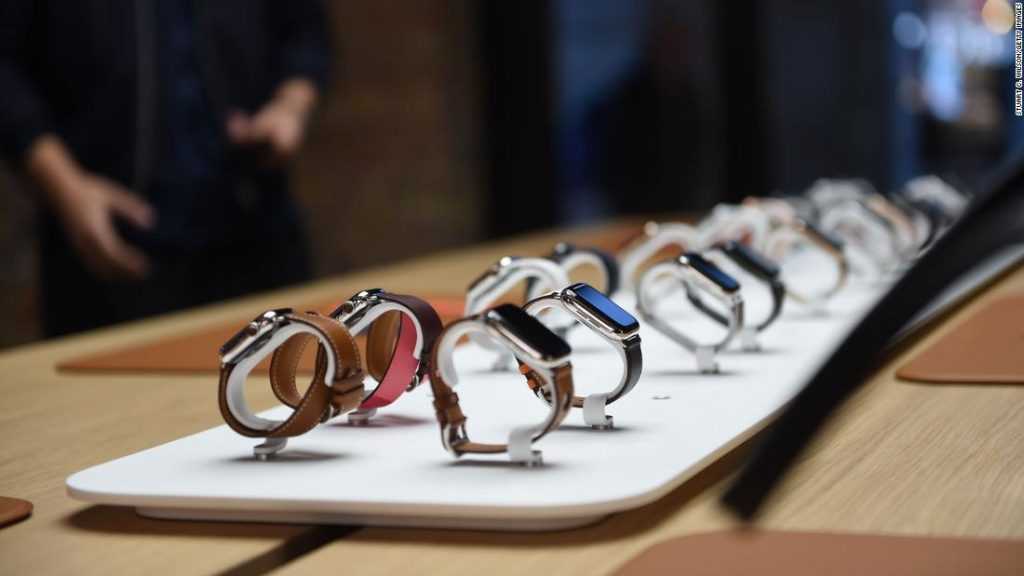 Invitations for Tuesday's event said "Time Flies," hinting at updates to the Apple Watch.
Though the line will most likely be led by a 6th-generation Apple Watch, Bloomberg reported that new "low-end" models may be in the offing as well.
Other rumors suggest a new watch could add features such as blood oxygen monitoring and longer battery life.
Health updates have become a key selling point for the watch, which has grown into a blockbuster product since it was first released in 2015. Last year, Apple sold 31 million watches, according to Strategy Analytics — more than the entire Swiss watch industry in 2019.
Another new iPad?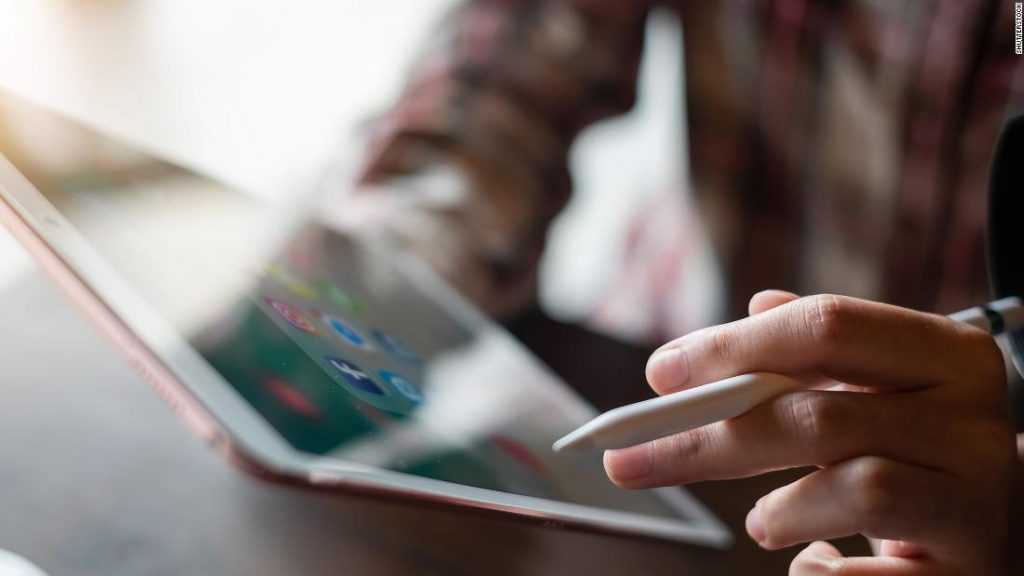 Rumblings suggest that Apple may announce a new iPad or iPad Air today.
Bloomberg reported that Apple is readying a refreshed iPad Air with an edge-to-edge display. Meanwhile, various rumors indicate that announcements will include a refreshed lower cost iPad model.
It would be Apple's second iPad launch this year — the company unveiled an update to its iPad Pro line in March. Apple said at the time that it had sold 500 million iPads to date, and the product has remained the top selling tablet for 10 years.
A new iPad would also have competition from one of Apple's biggest rivals: Samsung released two new tablets last month, the Galaxy Tab S7 and S7+, which it claims are the "first tablets that support 5G available in the United States."
iPhone 12 and 5G possibilities
Invitations for Tuesday's event fueled rumors that it could announce the iPhone 12, too. However, Bloomberg reported that new iPhones won't launch until October, and Apple previously said new iPhones would ship slightly later than usual this year.
The company has been widely expected to unveil an iPhone 12 with 5G capabilities this fall, which would be the first iPhone to connect to the new, ultra-fast wireless networks being rolled out by carriers.
Analysts expect the 5G iPhone to generate a "supercycle" of device upgrades, potentially prompting millions of people to buy the new device.