Keeping it real. Bobby Berk has a history of speaking his truth and shining a light on celebrities who've wronged him, including the time he called Aviva Drescher a "con artist" in 2014.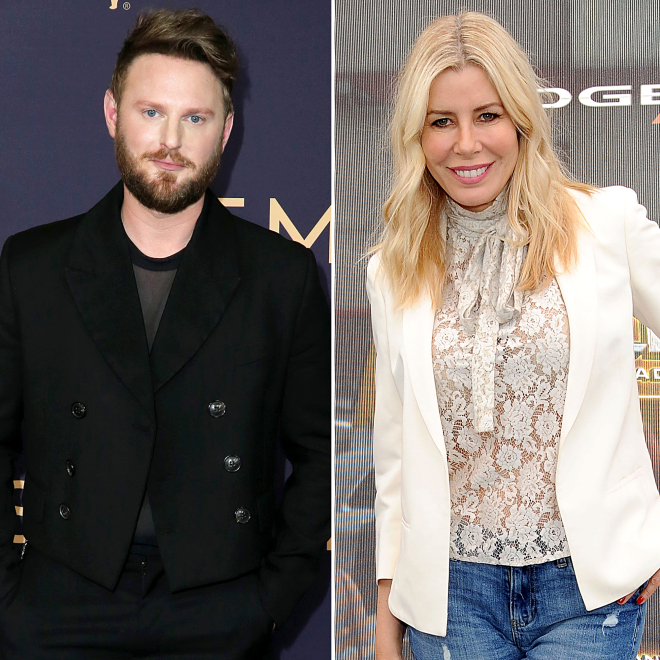 The Queer Eye star, 38, shared a cautionary tale involving a Real Housewives of New York City star during an appearance on The Jenny McCarthy Show on Thursday, June 18, years after his run-in with Drescher, 49. A source tells Us Weekly that he was referring to Drescher in the interview.
After saying that "celebrities can be a pain in the ass sometimes," while speaking with Jenny McCarthy, Berk detailed an incident with a mystery Bravo show star in which the housewife and her husband tried to "bully" him into designing her house for free and later took things from his store without his permission.
When the interior designer confronted the woman, telling her, you "came in here and literally stole from my store," she allegedly threatened him. "They said, 'You know what? Then let's go to court. This'll be good TV. It's easier for us just to have our lawyer deal with it than it would be to actually pay you,'" he recalled.
Berk didn't name names during the Thursday interview, however, in 2014 he called out Drescher by name after a story about her reportedly extorting $5,000 from an artist by holding paintings hostage surfaced.
"Oh @AvivaDrescher, UR such a con-artist," Berk wrote via Twitter on September 2014. "Guess I'm not the only one you F'ed over. So pathetic!"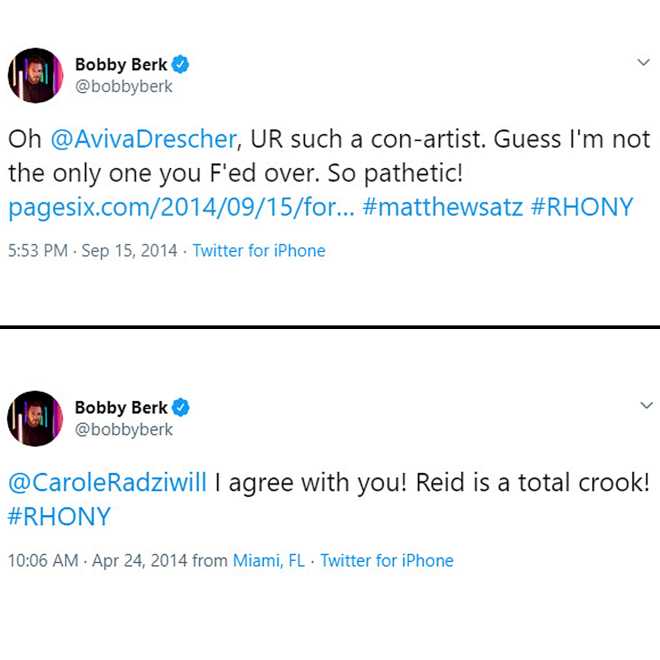 Months prior, the designer applauded RHONY's Carole Radziwill after she called out Drescher's husband, Reid Drescher.
"@CaroleRadziwill I agree with you! Reid is a total crook! #RHONY," Berk tweeted in April 2014.
During Berk's Thursday interview, he didn't say who stole from him, but he revealed that a husband-and-wife duo tricked his team into giving them items to decorate their new home when he wasn't in the office.
"She came into my store the next week when I wasn't there and told my staff that I had said she could take anything out of the store that she wanted to design her house for the shoot," he recalled of the scandal.
Although the RHONY star gave Berk's staff her credit card to charge if she didn't bring something back, Berk said it was declined when they did run it — which was months after his things weren't returned.
The experience resulted in the Texas native being picky about his clientele.
"If you're somebody in this industry, I need to really know you because when I first met this person, I was like, 'Oh, she's great.' But I didn't really know her," he concluded. "I'm very picky about the type of clients that we work with now — especially in Hollywood."
Us Weekly reached out to both Berk and Drescher for comment.
Reporting by Rebecca Strassberg
Source: Us Magazine