Presidential elections in the US are the scene of exciting moments. The conflict between US President Donald Trump and Democratic candidate Joe Biden has fallen to three states. The president, who will rule the country for four years, will determined based on results in Wisconsin, Pennsylvania and Michigan. According to the finalized results, Democrat candidate Biden has 213 delegates and President Trump has 174 delegates. "It may take tomorrow morning to get the results," said Biden. Biden is also ahead in the number of votes. US President Trump said, "We will not allow the election to be stolen." Experts also say that the election results will not be clear today. We have compiled last minute developments regarding the election for you ….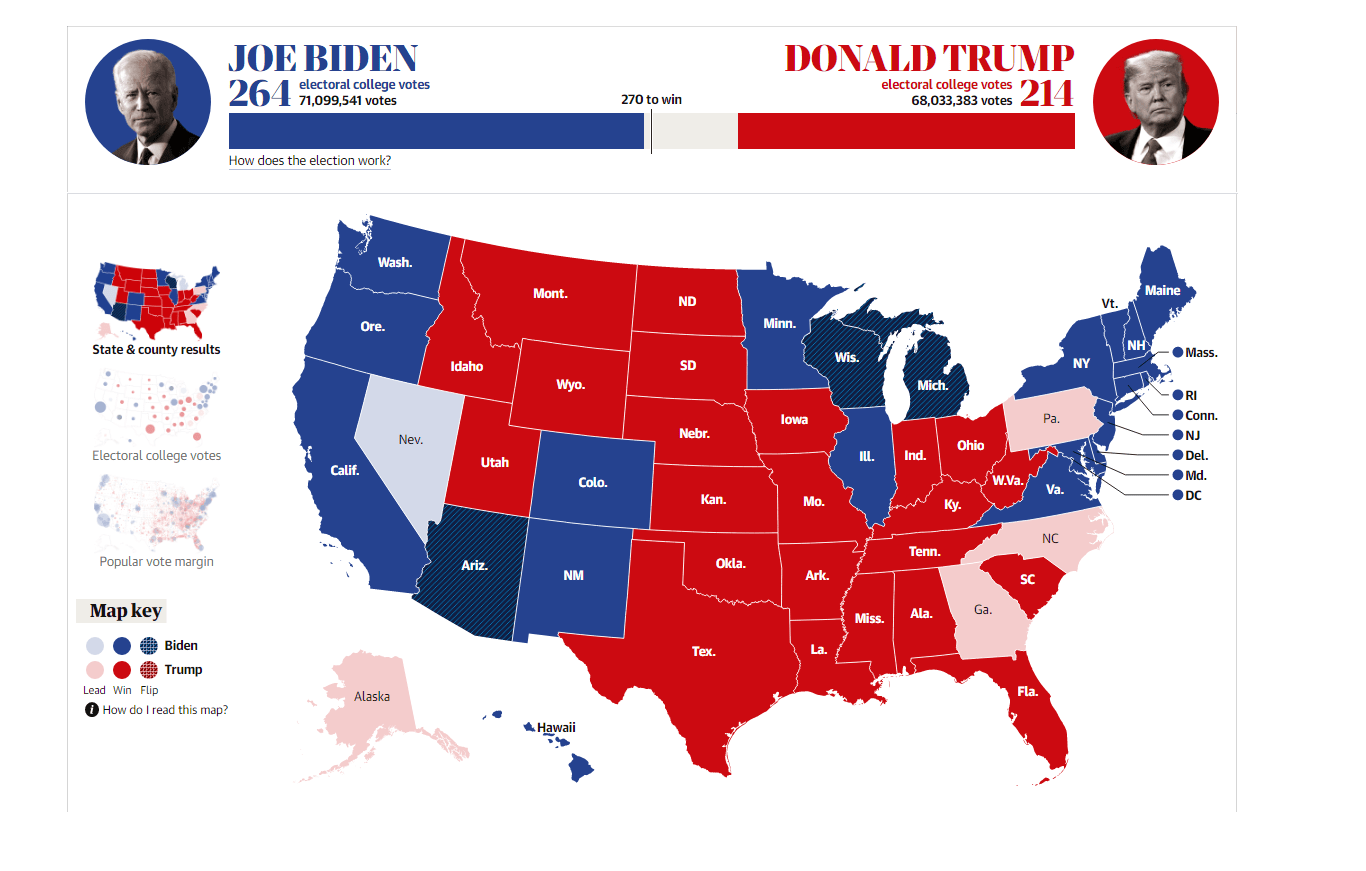 Presidential candidate Joe Biden said, "They said we won Arizona. We're not out of the game in Georgia either. We have very good feelings for Wisconsin and Michigan. It may take a long time to count the votes, but we will win Pennsylvania too. It may take tomorrow morning to get the results. It is neither for me nor Donald Trump to say who won. Only the US people can say that "
US President Trump, "They are trying to steal the election. We do not allow the election to be stolen."
Almost half of the votes were counted in the top states of the election, Wisconsin, Michigan and Pennsylvania. However, results in Wisconsin, Michigan and Pennsylvania are not expected to be released today. Therefore, the announcement of the person who will rule the US for four more years may be delayed to the next day.
Democratic candidate Biden leads in the number of delegates, but Trump's delegation does not include two major states, Texas and Florida. Results in Wisconsin and Pennsylvania, the swing states where half of the ballot boxes have not opened, will determine the new president of the United States. The counting of the votes cast by letter was halted in Philadelphia, Pennsylvania.
Voting has ended in the predominantly democratic West Coast states of Washington, Oregon and California. With the opening of the ballot boxes there, an increase was observed in Joe Biden's votes.
As the vote count approaches the end in the USA, who will be the new president will be determined largely by the results of the states where the count is still ongoing.
Biden wins the critical state of Wisconsin and Michigan in the US presidential race. Biden reached 264 delegates in total. In Nevada, which has 6 delegates, Biden will be able to announce its presidency without waiting for the results of Pennsylvania, North Caroline and Georgia, with 270 delegates. In the country with 50 states in total, the results are highly clear in 43 states, while the count continues in 7 states.