US President Trump complained that the experts he worked with had high approval figures, complaining that people did not approve of his work and said, "Nobody loves me. It may just be about my personality " used expressions.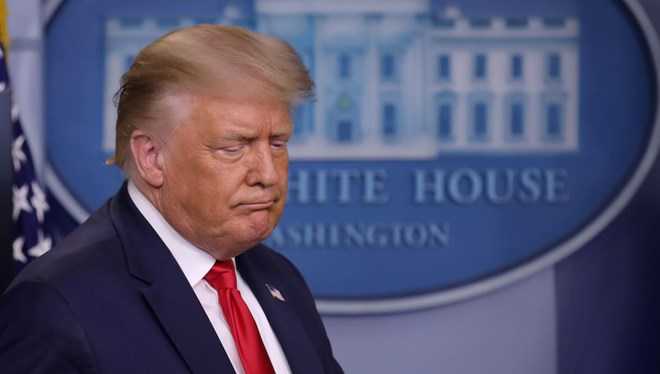 US President Donald Trump announced that Kodak company will start producing pharmaceutical active substances in the USA and they will give the company a $ 765 million loan for this.
At a press conference in the White House, Trump evaluated the latest developments regarding the Covid-19 outbreak and the country's agenda, answered journalists' questions.
Stressing that they are taking new steps every day to produce US goods in the USA instead of other countries, especially China, Trump continued to use the term "Chinese Virus" for Covid-19.
Citing the efforts to develop vaccines against Covid-19, Trump also announced, "Pfizer recently announced that it has gone through phase 2 and 3 experiments in vaccination studies. It seems that the vaccination is heading in a very fast and positive direction." said.
"765 MILLION DOLLAR WILL BE GIVEN"
Announcing that they have reached a new agreement with the Kodak company, which is known for its activities in the field of photography, Trump stated that this company will start producing medical drug content.
Trump noted that a large percentage of pharmaceutical ingredients are currently produced in India and China, but can be produced cheaper within the country, "765 million dollars will be loaned to the company under the Defense Production Law for the agreement we reached with Kodak," he said.
Trump said, "We will have 100 million doses in the first place. After that, we will reach 500 million doses. The army will take part in the distribution of these vaccines within the country. Maybe we can provide vaccines to other parts of the world, "he said.
"THE USE OF HYDROXYCLOROCININE HAS A POLITICAL STATUS"
Referring to the discussions about the use of malaria drug "hydroxychloroquine" in Covid-19 treatment, Trump said, "Some doctors say this drug is extremely successful. Others disagree. I think the use of this drug has become political. I used it for 14 days and look here. This drug is safe, it does not cause any problems. I had no problems. "
"BECAUSE NOT POPULAR, I WOULD RECOMMEND"
Trump noted that many studies on the effects of hydroxychloroquine have been published and there are positive opinions before, saying, "This drug is not very popular these days because I suggested it. When I suggested, someone said, "Don't use this."
Complaining that people do not approve of their work while high approval numbers are coming to the experts he works with, Trump shared the view that "Nobody loves me. This may only be about my personality."