Will the regained freedoms soon go away? As soon as life has normalized, the screws are tightened again. In view of the risk of a second wave of corona, numerous authorities and countries are introducing new restrictions.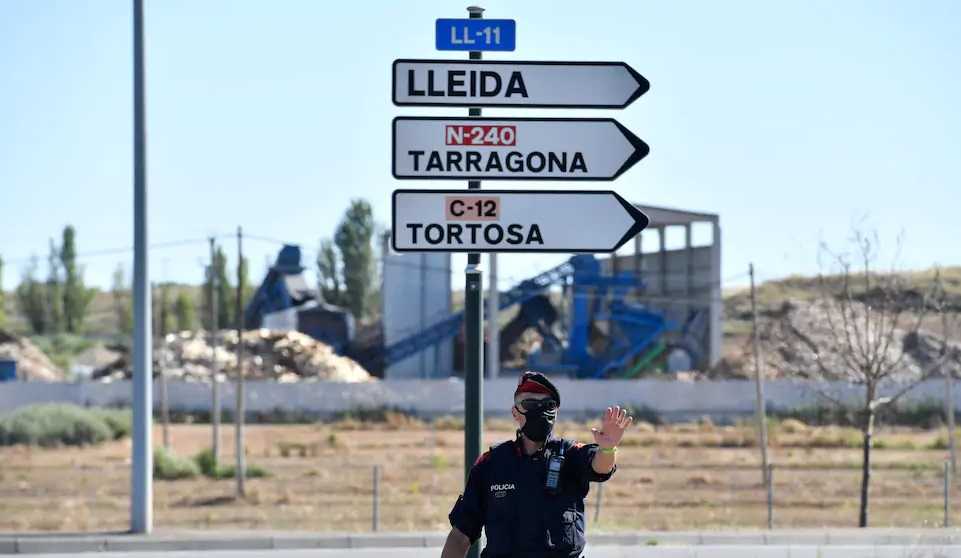 Exit restrictions, mask regulations, surveillance by the secret service. After a brief relaxation, the number of new corona infections rises again in some regions of the world. Many authorities are reacting to this again with drastic measures. In Switzerland too.
The Confederation has given decision-making powers to the cantons regarding individual measures. Various restrictions have been imposed since then.
Cantons of northwestern Switzerland and Ticino
Five cantons have tightened their access measures for clubs. In Basel-Stadt, Basel-Landschaft, Solothurn and Aargau, the maximum number of guests in nightclubs from Thursday evening will be 100 instead of 300. With this measure, tracing should be relieved and the risk of infection reduced. The maximum number of guests in Ticino clubs was reduced to 100 last week.
Canton of Jura
In the Canton of Jura, protective masks have been worn since Monday. The cantonal government decided this last week in view of an increase in new infections. The mandatory mask is initially valid for two months. Children over the age of 12 must also adhere to it.
Canton of Vaud
The canton of Vaud has also been obliged to wear a mask in shops since Wednesday. However, only where there are more than ten people at the same time.
Spain
Stricter measures are sometimes taken abroad. According to the national decree of the central government in Spain, there is actually only an obligation to wear an outdoor mask if a distance of at least one and a half meters cannot be maintained. After an increase in the number of infections, the holiday region of Catalonia is now introducing a general mask requirement, which should apply practically everywhere and always outdoors.
The new outbreaks are particularly worrying in the Segrià region: the district with the capital Lleida was cordoned off for two weeks on Saturday. Around 210,000 people are affected.
A five-day closure of the La Mariña district in the Galicia region is still in effect until Friday.
Portugal
The corona virus is putting Portugal under increasing pressure again. Because of the high infection rate in some communities, citizens have been out of the house since the beginning of July only for shopping, working and visiting doctors. Prime Minister António Costa declares compliance with the curfew "civil duty".
Due to the development, it is also unclear whether the remaining Champions League games can actually take place in Portugal in August as originally planned.
Serbia
In Serbia, around 300 people have been infected with the Sars-CoV-2 virus every day for a good two weeks. The capital Belgrade in particular has developed into a corona hotspot. President Aleksandar Vucic therefore announced another curfew for Friday to Monday. However, in the face of violent protests against the measure, the president came back. Instead of curfew, alternative steps against the spread of the virus should be put in place. Nevertheless, there were riots again on Thursday night. Not only in Belgrade, but also in the cities of Novi Sad and Nis.
Australia
The Australian metropolis of Melbourne is once again going into a lockdown due to a sharp increase in infections – for six weeks. The second largest city in Australia only slowly reopened its economy a few weeks ago. Now there are strict curfews again: Citizens are no longer allowed to leave the house except for shopping for food, visiting doctors and nurses, exercising physical fitness or working. Guests cannot be received at home.
Regional head of government Daniel Andrews warns: "We have to be realistic about the circumstances we are facing." The frustration apparently led to a certain negligence. "I think we all know that we have no choice but to take these very, very difficult steps."
Israel
In Israel, health officials are reporting higher infection rates this week than ever before. Defense Minister Benny Gantz went into quarantine as a precautionary measure after a possible contact with a corona infected person, as was announced on Wednesday. Prime Minister Benjamin Netanyahu is increasingly criticized for his crisis management. He is accused of hasty easing and a lack of preparation for the expected second wave. The government has now made some adjustments and introduced restrictions again.
The domestic secret service Schin Bet monitors the cell phone and credit card data of the approximately nine million inhabitants in Israel and compares them with the movement data of corona infected people. A corresponding program was reinstated a few days ago. In principle, the system works similarly to the Corona warning app in Switzerland. But it is not based on the voluntary use of an app that collects anonymized data. The fact that the secret service is becoming active for the health authorities is also causing fierce criticism. Netanyahu defends the strategy: "So far, we have used the digital technologies available to us in the fight against terror. But we have no choice because we are in a war that forces us to use other means.