Second pitting US presidential candidates Republican Donald Trump and Democrat Joe Biden. While a sharp divergence between both domestic and foreign policy emerged in the recent live broadcast debate. Especially the issue of relations with Russia and China caused tension.
Trump and Biden shortly before the presidential elections to be held on November 3. Moderated by NBC host Kristen Welker. The parties faced each other at Belmont University in Nashville, Tennessee.
In the discussion that started with the title of "Combating Covid-19", Trump stated that the virus will disappear soon. "We will have a vaccine for the virus in weeks."
Stating that Covid-19 is not only the problem of the USA but the whole world, Trump argued that the measures they took are appropriate and the death rate is low.
Biden said, "220 thousand Americans died from this disease and there is nothing else I can say. Someone responsible for so many deaths should not remain the American president."
"Do you guarantee that the vaccine will be released within weeks?" to the question. "I cannot guarantee this, but by the end of the year the vaccine will definitely be released. One or two companies have good chances in this regard. These companies are Johnson and Johnson, Moderna and Pfizer."
Biden reminded that Trump had previously said that they would end the virus by Easter and summer. "We are entering a dark winter right now and Trump still has no clear plans. It is highly unlikely that the vaccine will be ready by the middle of next year."
Stating that they learned to live with the virus, Trump said, "We have no other choice. We can't lock ourselves in the basement of our house like Joe. He has the ability to shut himself in the basement but still make a lot of money."
"We learned to live with it, but people are learning to die. Today many people had empty chairs at the breakfast table," Biden said to Trump's statement.
Upon Biden saying that he should take responsibility, Trump said, "I am taking responsibility. This is China's fault, not mine."
Asking whether scientists would quarantine the country and ask about its economic implications. "I will quarantine the virus, not the country."
Candidates blamed each other for the Covid-19 incentive package still not passing the Congress.
Trump despite Biden saying that Trump did not take enough action. "Take a look at New York. It is in the hands of Democrats, but it has turned into a ghost town. Ten thousands of people died in nursing homes. Other Democratic states are the same."
Biden after the FBI and DNI's statements that Russia and Iran are trying to intervene in the elections. "No matter which country, if any country wants to intervene in the American elections, it will pay the price."
While Biden accused Trump of not taking enough action on Russia and Iran, Trump also. "Joe got $ 3.5 million from Russia and I didn't get a penny." In response, Biden said, "I have never received a penny from any country in my life."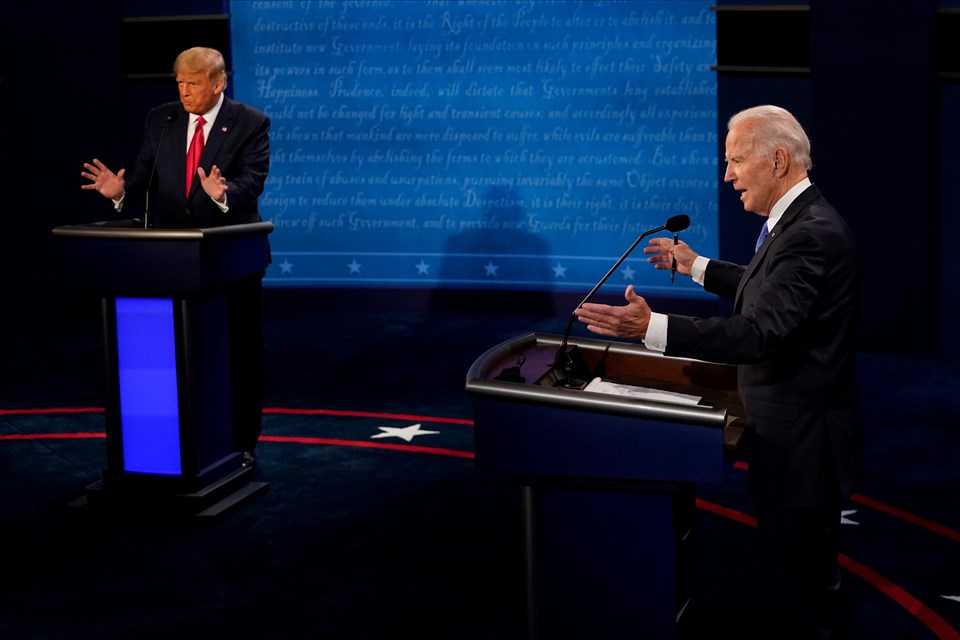 In the discussion, in e-mails from a computer allegedly belonging to Hunter Biden, Biden's son. During the term of Biden's vice president, allegations about relations with a Ukrainian energy firm and China also came to the agenda.
Trump goes after the allegations of Joe Biden's son Hunter Biden's business partner about China. "Biden owes the American people a statement."
Trump, after Biden stated that Trump did not disclose his tax records. He stated that he will announce his records soon.
Biden, on the Ukraine issue, "This man (Trump) is the only person who has said negative things to Ukraine about me." Saying that he did not take a wrong step during his vice president, Biden claimed that his son did not earn money from China.
Trump stated that he had an account in China during his business life, but closed these accounts when he decided to become president. "Unlike me, during the presidency of Biden, his son and siblings got even richer. They swept all the money like a vacuum cleaner."
Biden said he would strive to bring China to international standards if he is elected president. Trump explained the tariffs he applied to China.
Trump said that when he took office, the United States was on the brink of war with North Korea and prevented the deaths of 32 million people. Biden, on the other hand, emphasized that if the president is elected, they will continue to control North Korea's nuclear activities.
In the context of his relationship with North Korean leader Kim Jong-un, Trump said, "It's good that we have good relations with other country leaders." "This is 'we had good relations with Hitler before invading Europe,' Biden said something like saying.
When asked whether Biden will meet with Kim Jong-un. "I'll negotiate with him on the condition of reducing his nuclear capacity. The Korean Peninsula must be demineralized."
The candidates harshly criticized each other's policies regarding the health system.
After Trump was burdened with Biden over the policies of Bernie Sanders, one of the Democrat candidate candidates, Biden. "This man is confused. He thinks he's racing against someone else. You are racing against Biden."
Trump to question about the separation of immigrant children from their families on the Mexican border. "They are brought here to be used by gangs and wicked people to cross the country. Our transition borders are better than ever now. They claim that we built cages where we put immigrants. These were built in 2014. It was the Obama-Biden administration that built it. "
These were built in 2014. It was the Obama-Biden administration that built it. " Trump's "Who built these cages?"
Biden also said about the failure to keep the promises made about immigrants under Barack Obama. "We made a mistake and it took a long time to fix it. I will no longer be the vice president, but the president."
Trump criticizing Biden's "catch and release" approach. "By doing so, murderers, rapists enter our country. If we take their name and release them into the country and then say 'come back', only those with the lowest IQ will return."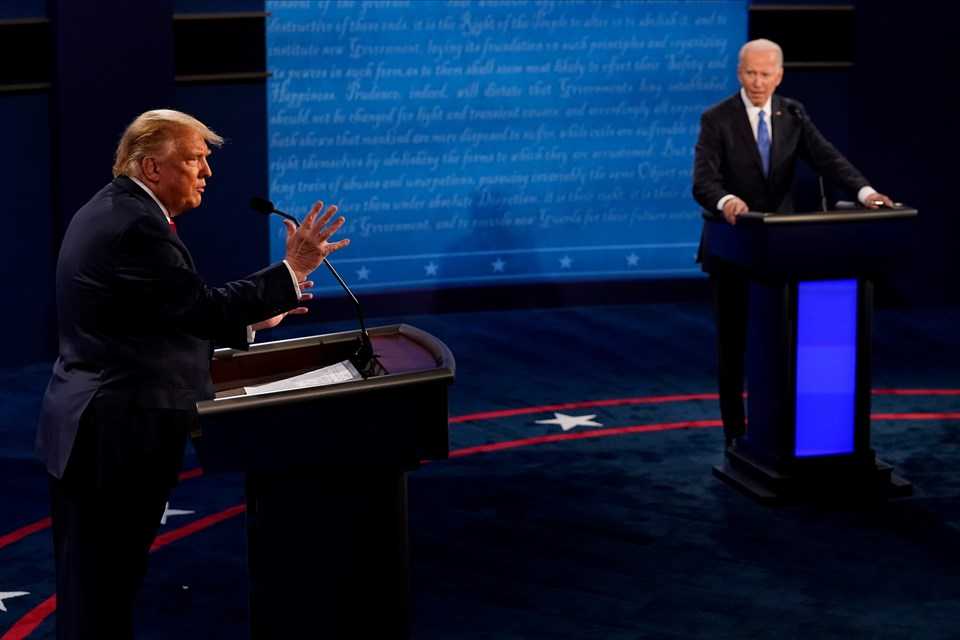 In the discussion on climate change, Biden stated that it is a moral responsibility to accept this situation and develop policies accordingly.
Biden claimed that the climate change plan will provide employment opportunities for millions of people, and will contribute 1 trillion dollars to the economy as well as energy savings and clean environment.
Trump stated that Biden's climate change plan will cost more than $ 6,000 per year for American families. "Biden's climate plan is a complete economic disaster."
Expressing that the wind energy option in Biden's climate change plan harms birds, is expensive, and solar energy is not yet sustainable, Trump said. "For the first time in my time we are independent of energy maintenance. We no longer need all those countries that we have had to fight for energy. We are independent of energy."
Trump said that Biden opposed the extraction of shale gas or hard-to-reach energy sources with pressurized water, known as hydraulic fracturing. While claiming that he later gave up on this, Biden argued that this was untrue and said he would ban hydraulic fracturing on federal land.
While Biden stated that it will limit the industries that pollute the environment. Trump's "Are you going to shut down the oil industry?" "I will transform them."
Trump then spoke to states with rich energy resources, saying, "Hear this statement well in Texas, Arizona, Pennsylvania."
Asked about racism, Biden said, "There is a systematic racism in this country. The US has never stopped promising equality and freedom." Biden said that he did not tell his children what to do when stopped by the police. However, he said that black families in the country told their children this.
Trump, on the other hand, stated that his administration provides significant support to black Americans. "After Abraham Lincoln, no one else has helped more black Americans than me."
Donald Trump stated that Biden also supported the law enacted in 1994, which stipulates the imprisonment of people who have drugs for 5 years. Biden responded, "It was a mistake. It shouldn't have been done that way. It should be a rehabilitation center, not a prison, only for those involved in drug abuse."
Biden told Trump, "He's the one who pours gas into every racist fire."
During the debate, Trump often reminded Biden of his years as vice president and asked why he didn't then do what he promised today.
Defending that Biden is an unsuccessful politician, Trump told his opponent, "I entered the presidential race because of you. These politicians just talk, no activity. You're a corrupt politician Joe, don't tell me the tale of how innocent you are. "
In response, Biden asked the origin of the laptop where his son Hunter Biden's emails were leaked. Around 50 intelligence officials claimed that this computer was delivered to Trump's team by Russia.
Trump told Biden, "Are you telling that the laptop is a Russian gimmick. The laptop is Russia, you must be kidding."