The eyes of the world have been on England for days. While the public mourns the death of Queen Elizabeth II, they are also eagerly waiting for the new monarch, King Charles III, to ascend to the throne. There is still some time left for Charles, who was declared king at the ceremony, to sit on the throne officially…
Britain today witnessed moments that had not been witnessed in 70 years.
In place of Queen Elizabeth II, who died on Thursday, her first son Charles was proclaimed king and renamed King Charles III.
A FIRST IN HISTORY
This is also a first in history. Because when Queen Elizabeth II ascended the throne and declared her queenship, there was no television broadcast, but her son Charles declared his kingdom with a ceremony watched by the whole world.
In fact, it had been known for a long time that the deceased queen's son would ascend to the throne, and as soon as the queen's death was announced, Charles began to be addressed as king.
However, according to royal custom, the official proclamation of Charles as king took place with the ceremony just before.
King Charles III officially became the king with the completion of his speech after the meeting of about 200 senior government officials at St James's Palace, 14 diplomats from other countries under the influence of the Crown and officials from the high institutions of the state.
Charles' wife Camilla and son Prince William were also present at the ceremony.
After the meeting, Charles automatically transformed this community into the 'Royal Consultative Council', and thus the meeting turned into the official royal meeting.
FIRST WORDS ON THE PART!
King Charles III took the podium and said; "We have suffered an irreplaceable loss," and commemorated his mother, Queen Elizabeth II. In his speech, King Charles III said, "My mother showed us all what it's like to show love for a lifetime and to serve selflessly."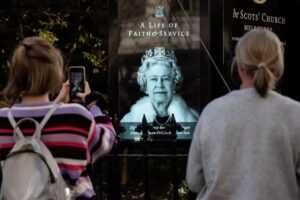 CHARLES III IS OFFICIALLY KING
Delivering a speech made up of oaths, commitments, and commemorative phrases about his mother's death, the announcement proclaiming Charles' kingship was read shortly after from the balcony of St James's Palace.
The same ad was then read on the Royal Exchange, opposite the Bank of England, the commercial heart of London. Immediately after, the flags were hoisted again for 26 hours. However, they will be halved again, as the period of national mourning will continue after the ceremonies.
HE DID HIS FIRST SPEECH YESTERDAY EVENING
The new monarch of England, King Charles III, his mother Queen II. He gave his first nationwide address last night after Elizabeth's death.
In his speech, King Charles III praised the Queen's love and compassion and stated that a new era had begun for his family.
King Charles III said, "When the Queen came to the throne, England and the world were still coping with the consequences of the Second World War and still living according to the traditions of ancient times. In the last 70 years our society has become multicultural and multi-faith. The institutions of the state have also changed in turn. With all the changes and challenges, our nation has enriched and evolved inexpressibly by its talents, traditions, and achievements. I was raised to respectfully preserve the precious traditions, liberties, and responsibilities of our unique history and parliamentary system of government. As the Queen did with unwavering devotion, I too I solemnly pledge to uphold the constitutional principles at the heart of our nation for the remaining time bestowed upon me by .No matter where you live in the UK or whatever your background or beliefs may be anywhere in the world, I will endeavor to serve you with loyalty, respect and love throughout my life. My life will surely change additional. "As I take on my new responsibilities, it will no longer be possible for me to devote much of my time and energy to charity, but I know that important work will continue in the trusted hands of others."