Coronavirus infections show no signs of abating despite the warmer weather, which was thought to quell the virus.
Health authorities on Sunday said 757 new cases were reported in the Seoul metropolitan region in the first 20 days of this month, surpassing the total number in April (412 people) and May (505 people).
Infections in June are expected to outstrip the number in March (858) when the epidemic began to spread nationwide. At this rate, the number will surpass 1,130 this month, with the average daily cases at around 38. Through the country, June already saw more new cases than May.
Infections appeared to be waning in April after peaking in the southeastern city of Daegu and surrounding North Gyeongsang Province. But they surged again after May 6 among clubgoers in Itaewon when the lockdown was eased.
Since then, infections have spread throughout Seoul, Incheon and surrounding Gyeonggi Province and are now reaching other parts of the country.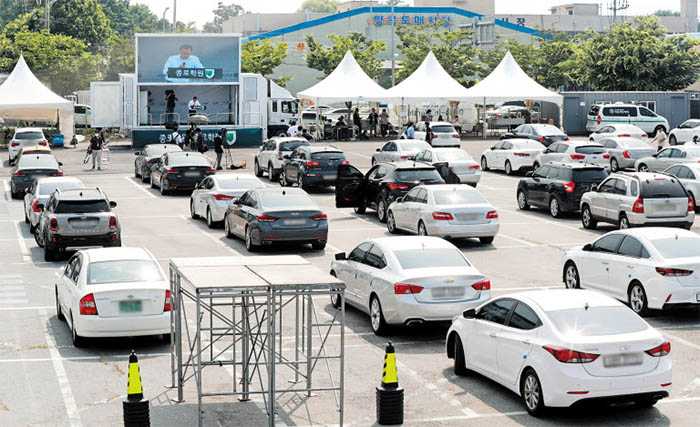 Kwon Jun-wook, the deputy chief of the Korea Centers for Disease Control and Prevention said, "We now have to think that there is no place that is completely safe from coronavirus."
Experts had expected the spread to abate as temperatures and humidity rise in the summer since viruses affecting the respiratory system usually flourish in the cold and dry months. But the exact opposite has happened.
Jung Eun-Kyeong, the KCDC chief, told reporters on Friday, "We could see risks of infection rise during the summer as people stay in air-conditioned spaces and touch their faces more often due to perspiration."
There are some calls to return to lockdown. But Choi Jae-wook at Korea University said, "There will be an endless cycle of lockdowns and resurging cases. We will have to put up with the virus until a vaccine or cure is developed."
Oh Myoung-don at the National Medical Center said, "Getting the coronavirus pandemic to end is an impossible task. Quarantine measures should be focused on minimizing the loss of lives."
Meanwhile, Korea reported 17 new cases as of Monday morning, bringing the total to 12,438.
Source: Digital Chosun Inc