The top executives of the 4 biggest technology companies of the country gave a statement about monopolization in the Congress and denied the charges against them. "If Congress does not bring justice to these companies, I will do this with a Presidential decision," said President Trump.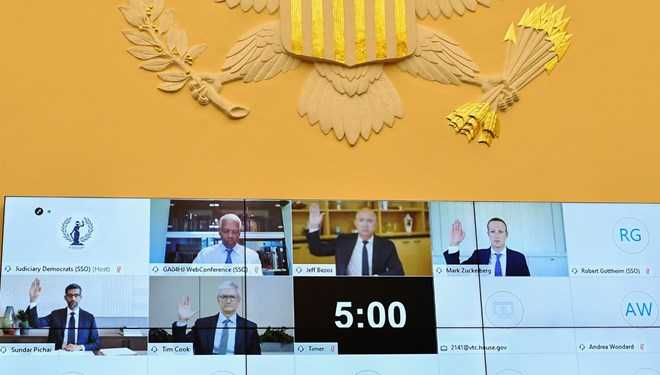 US-based technology giants Amazon, Google, Facebook and Apple's top executives CEO) testified at the Congress about the monopolization claims and market practices within the industry.
Jeff Bezos, Mark Zuckerberg, Sundar Pichai and Tim Cook attended the session organized by the Competition Subcommittee of the House of Representatives through video conferencing.
Top managers of 4 big companies answered the questions of the committee members within the scope of the ongoing investigation of their companies' market domination.
"THE SHARE OF AMAZON IN THE U.S. MARKET IS LESS THAN 4 PERCENT"
Jeff Bezos, the CEO of Amazon, who made a statement in the face of Congress members for the first time, stated that he grew up in difficulties without a father and that he entered the sector in 1994 by selling books on the Internet from his house's garage.
Bezos, referring to the situation of Amazon in the huge and competitive global retail market, stated that the company's share in the US retail market occupies less than 4 percent. Bezos reminded those who suggested the company be downsized that Walmart was twice as big as Amazon.
Bezos, who initially refused to testify at the Congress and stated that he could testify only if other CEOs attended, also rejected criticisms that Amazon directed him to collect confidential information from third-party vendors in an unfair competition.
" UPDATED RULES SHOULD BE DETERMINED FOR THE INTERNET "
Facebook founder Mark Zuckerberg also referred to his company as "hate speech" He shared his views on the inability to properly control his shares, violation of users' privacy and criticism of creating unfair competition.
Stating that Zuckerberg advocates freedom of expression to the fullest extent possible, unless Zuckerberg poses an immediate danger and harm, "We believe in the values of democracy, competition, participation and freedom of expression, on which the American economy is built." said.
Arguing that people understand their concerns about the size and power of technology companies, Zuckerberg said, "Ultimately, I believe companies shouldn't just decide on important matters like harmful content, privacy, and choice integrity on their own.
That's why I urge governments and regulators to take a more active role in this area and to set up updated rules for the Internet. " he spoke.
" IN THE LAST 10 YEARS, THE ADVERTISING COSTS OF THE INTERNET Fell 40 Percent "
Google's CEO, Sundar Pichai, said in a written statement that Google operates in highly competitive and dynamic global markets, where prices are free and products are continually improved.
Pichai against charges that Google has changed search engines to gain an unfair advantage over other companies in the ecommerce market, "Advertising competition on Twitter, Instagram, Pinterest, Comcast and others, In the past 10 years, it has helped lower the cost of internet advertising by 40 percent, and these savings have been reflected on consumers as a lower price. "
used expressions.
European regulators fined Google $ 2.7 billion for Google's charges, Prosecutors in the 50 states of the United States also launched an investigation into allegations of monopolization on Google in September.
"APPLE DOES NOT HAVE A PRINTING MARKET SHARE"
Tim Cook, Apple's CEO, the third largest company selling phones worldwide "Apple does not have an oppressive market share in the area where we do business." he spoke.
Rejecting the accusations that Apple has disabled its rivals in the market with technical limitations and imposed high prices on consumers, Cook argued that prices are reasonable compared to other companies.
"We've never raised commissions or added a single fee since Apple stores opened," Cook said.
" If the congress does not bring justice, i will do this "
US President Donald Trump called for the restriction and control of these companies in his tweet before the session in Congress started.
"If the Congress, which should have done so many years ago, does not bring justice to these companies, I will do this with a Presidential decision." used the expression.
Trump claimed that he had only been spoken in Washington for years but no action was taken, "Our country is fed up with this and is tired," he said.