The state of California, affected by the heat wave in the USA, is struggling with fires of all sizes.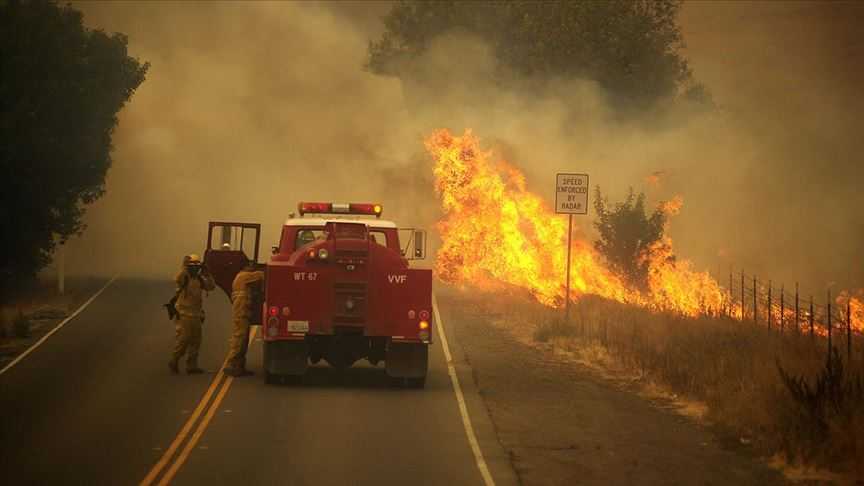 California Governor Gavin Newsom stated that 367 fires were effective across the state, 23 of them large.
Saying that the fires were caused by "extraordinary" air temperature and "lightning," Newsom noted that approximately 11,000 lightning struck within 72 hours.
Sheriff Jeff Dirkse said in a statement to the "Sacramento Bee" newspaper that 5 to 7 people were injured in a fire in Stanislaus County.
In a statement made by the California Fire Department, it was reported that the helicopter pilot died as a result of the crash of a fire-fighting helicopter that interfered with a fire in Fresno County.
In the statement, it was noted that there was no one other than the pilot who lost his life in the helicopter, which is responsible for pouring water into the flames that are effective 14 kilometers south of the Coalinga region.
Evacuation orders issued for thousands of people
Due to 2 fires effective in Solano County, 8,000 people were ordered to evacuate near the Russian River.
Police and firefighters have been warned of evacuation to the public in the Vacaville area, which has a population of about 100,000, between San Francisco and Sacramento.
In the fires in Vacaville, 50 buildings, including houses, were destroyed and 50 were damaged.
California police said in a statement on Twitter that each first response unit in the area is actively working to fight fires by safely keeping the public informed and evacuating, and residents are safe.
In the Healdsburg area of ​​Sonoma County, which has a population of about 12,000, the public has been warned that they are ready to leave their home.
Several thousand people in Angwin and Deer Park settlements were also ordered to evacuate.
In San Francisco, surrounded by forest fires to the north, east and south, the air is covered with ash and smoke.
Fires caused by 20 separate lightning strikes in San Francisco Bay destroy 344 square kilometers and threaten around 1400 buildings.
Fire department spokesman Jonathan Cox announced that approximately 22,000 people had been ordered to evacuate in the San Mateo and Santa Cruz areas due to the fire in the forest park area.
Authorities shared the information that about 20 houses were burned in this area.
According to CNN's report, fires in California damaged more than 1200 square kilometers of land.
Authorities reported that a person was arrested on suspicion of arson in relation to one of the fires.
Throughout the state, many suffered from heat and smoke, and tens of thousands were left without power.